California Water Subsidies: About the Central Valley Project
The Central Valley Project (CVP) is the largest federal water supply project in the country. First authorized in 1936, the CVP now encompasses 20 dams and reservoirs, 1,437 miles of canals, 192 miles of drains, and an array of pumping and power generating facilities.
Although the CVP carries some water for urban and industrial use, it was constructed mainly to provide water for irrigation of the San Joaquin and Sacramento valleys. Today, agriculture uses about 90 percent of the 7 to 8 million acre-feet (a) of water carried by the CVP each year to irrigate roughly 3 million acres of cropland. (An acre-foot is the amount of water needed to cover an acre of land one foot deep, or 325,851 gallons.) [1,2] Major crops grown in the CVP include cotton, rice, and alfalfa hay. Extending nearly 500 miles from north to south, the CVP transformed millions of acres of land that was essentially desert into fertile farmland. At the same time, the CVP dramatically altered the natural flows, water quality and ecology of the Sacramento and San Joaquin rivers, their watersheds, and the San Francisco Bay and Delta. [1]
This massive project carried an equally massive price tag: The CVP cost the federal government $3.6 billion to construct. Part of the original deal was that farmers would pay back over $1 billion of this cost within 50 years of project completion. [1] But in 2002 — more than 60 years since the water began flowing — irrigators had only paid back 11 percent of the tab. The reason? CVP recipients had signed 40-year contracts that granted farmers water at rates far below what was necessary to pay back the construction costs.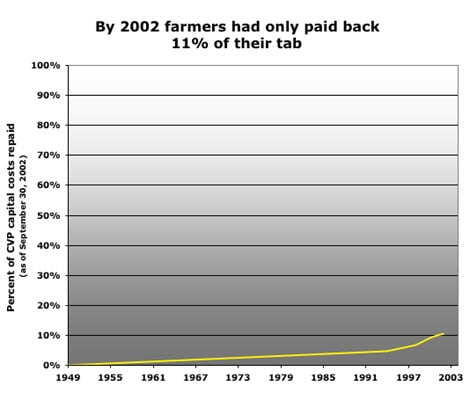 Source: [11,26]
In fact, some of the water rates stipulated in these 40-year contracts were so low that they don't even cover the costs to the government of delivering the water. In 2002, for example, the contract rate for 17 CVP water districts, that together paid for almost 300,000 acre-feet of water, was just $2 per acre-foot. [11] Yet the cost for delivering this water to these districts was more than $10 per acre-foot. As a result, by 2002, 19 districts had repaid none of their share of the costs. Two districts did better than that: They had repaid $2 and $1.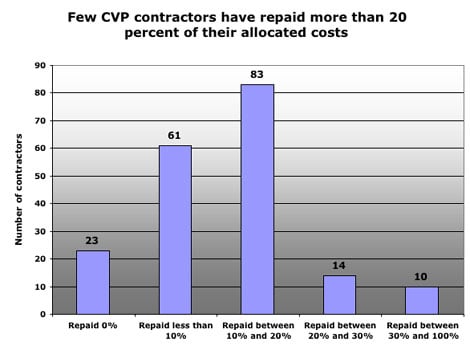 Source: [11]
Table. Twenty-two water districts have paid back less than $3.00 toward their allocated costs.
CVP contractor
Allocated CVP capital costs
Total amount
of capital costs
repaid (to 9/30/02)
Orland-Artois Water District
$21,482,622
$2.00
Kanawha Water District
$13,419,422
$1.00
Colusa County Water District
$28,097,248
$0.00
Westside Water District
$21,272,949
$0.00
Corning Water District
$10,524,656
$0.00
James Irrigation District
$8,607,065
$0.00
Dunnigan Water District
$5,848,489
$0.00
Patterson Water District
$3,862,811
$0.00
Glide Water District
$2,692,178
$0.00
Thomes Creek Water District
$2,104,528
$0.00
La Grande Water District
$1,667,580
$0.00
Proberta Water District
$1,540,944
$0.00
Davis Water District
$1,119,850
$0.00
4-M Water District
$1,094,971
$0.00
Garfield Water District
$1,059,683
$0.00
Fresno Slough Water District
$927,996
$0.00
Holthouse Water District
$541,502
$0.00
Cortina Water District
$526,974
$0.00
Kirkwood Water District
$380,533
$0.00
Glenn Valley Water District
$341,826
$0.00
Myers-Marsh Mutual Water Company
$63,754
$0.00
Reclamation District #1606
$51,498
$0.00
Irrigators are not only failing to pay back what they owe, they are also receiving an additional subsidy: No interest. While municipal and industrial users of CVP water must pay back their tab plus interest, farmers get to pay theirs back interest-free. This policy dates to the turn of the 20th century, when the federal government was looking to develop water supplies and other incentives to settle the West. The Reclamation Act of 1902 stated that "charges shall be determined with a view of returning to the reclamation fund the estimated cost of construction of the project." The Bureau subsequently interpreted this to mean that irrigators would not be required to pay back interest — in effect granting farmers a huge subsidy. [3]
This isn't the only hidden subsidy farmers are getting. For instance, if the Bureau projects that some districts are unable to pay anything towards their allocated costs, the agency increases the rates for power users and applies this money towards the district's debts. As of 2002, 21 CVP contractors had received such "capital relief" totaling more than $21 million dollars, but had paid just $411,041 towards their CVP construction tab. [11] In addition, for decades the Bureau had a policy of extending the repayment period every time a new piece of the CVP was built. That is, instead of setting a fixed repayment date 50 years after the water started flowing to most farmers, the Bureau reset the repayment clock each time a new facility was added to the project allowing payments to be spread out over a much longer period. This policy, which has now ended, increased the farmer's subsidies even more. [3]
The bottom line is that farmers are getting CVP water at artificially cheap prices. According to EWG's analysis of the Bureau of Reclamation's records, in 2002 farmers in the CVP paid an average of $17.14 an acre-foot for their irrigation water. That's one cent for every 190 gallons.
If irrigators were to pay operation and maintenance charges, make payments towards capital costs, and pay interest on these costs (calculated from 1982), according to the Bureau's figures irrigators would be paying $38.93 per acre-foot on average. (This is the average "full cost" price for CVP water in 2002-3, according to the Bureau's records.) In comparison, farmers in the State Water Project (SWP), a state-run project that parallels the CVP in some areas, paid an average of $50.92 per acre-foot for irrigation water in 2002 and 2003. [15, 16]
Even higher prices are paid by the state to buy water to put into the Environmental Water Account (EWA). Think of the EWA as a virtual water district whose customers are fish. Operated by the state since 2000 as part of a larger program to restore ecosystem health, the EWA buys water from willing sellers (mostly irrigation water users) within the CVP and SWP at market rates. In 2002-2003, the EWA paid an average of $129.48 for water. [17]
Finally, compare CVP users' prices to the cost of providing new water supplies. Feasibility assessments for several proposed new or expanded dams on the San Joaquin River show that this irrigation water from the newly created reservoirs would cost at least $170.42 per acre-foot — and probably a lot more. [18] Prices for urban water users are even higher: $625 per acre-foot of water in San Francisco and $925 per acre-foot in Los Angeles. [8]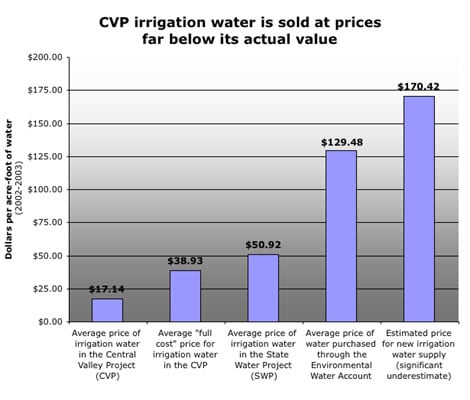 <div class="clear" "="">
Source: [11]
Such artificially cheap irrigation water has led to a host of problems besides the CVP-sized hole in the federal treasury. It has discouraged efficient water use and led to the planting of highly water-intensive crops such as rice and alfalfa in what is naturally a desert. This in turn has depleted the water available for wildlife and urban users and wildlife has paid the price. Of 29 fish species native to the Sacramento and San Joaquin Rivers and the Bay-Delta, two are extinct, six are endangered, five are rare, and nine others are declining. [2]
Cheap water has also made feasible the continued farming of land that is unsuitable to irrigation because of serious drainage problems. And it has created an uneven playing field whereby farmers getting CVP water pay far less than farmers receiving water from the State Water Project or other water projects.
Attempts at reform
Under the Reclamation Act of 1902, farmers were only allowed to get federally subsidized water for 160 acres of cropland, and they had to live on or near this land. The original intention of the law was to promote small family farms by enabling farmers to get cheap water. The acreage limitation was put in place to limit the amount of federal benefits accruing to any one party. [3]
But because the Act made no mention of leasing, by the 1970s it was clear that many farmers had taken advantage of this loophole to get cheap water for much larger acreage swaths. In its first major attempt to limit the water subsidies given to CVP farmers, Congress passed the Reclamation Reform Act (RRA) in 1982. (Although water districts and the irrigators within each of the districts were given the option of opting out of the RRA, the new statute provided incentives for opting in and most have done so.)
Under the Reform Act, farmers are allowed to get subsidized water for 960 acres of land (which was considered the size of an economically viable family farm), but must pay at least the full operation and maintenance (O&M) charges for this water. Farmers may also lease any number of acres under the revised law, but are required to pay the much higher "full cost" price for water used on any leased lands in excess of 960 acres. The Reform Act also instituted another major change to reclamation law: Farmers are no longer required to live on or near their farms to get federally subsidized water. This, in effect, removed one of the original justifications for the provision of cheap water in the first place: to settle the West with small family farms. [3] And it enabled individuals, partnerships, or corporations to operate farms as absentee landlords while still receiving taxpayer-funded water subsidies.
Yet even after the Reform Act went into effect, many CVP farmers still managed to get around the acreage limitations and receive highly subsidized water for large farms. The Bureau of Reclamation itself opened this loophole. The RRA does not specifically address whether multiple landholdings can be operated as one farm but still qualify for federally subsidized water; this detail was left to the Bureau to flesh out in its regulations. Unfortunately, as the Government Accounting Office (GAO) made clear in a 1989 report, the Bureau's implementing regulations did not "reflect congressional expectations." [4]
Under the Bureau's regulations, farmers can simply divide up their land holdings through a combination of partnerships, corporations or trusts. A 5,000 acre farm becomes five or six smaller farms — on paper. But in reality, farmers continue to farm the land as one unit and get subsidized water to irrigate all of it.
The GAO report took a closeup look at how eight large farms had responded to implementation of the Reform Act and found that only two had let go of their leased land in excess of 960 acres. In the other six, however, the GAO found that "the owners or lessees had reorganized large farms into multiple, smaller landholdings to be eligible to receive additional federally subsidized irrigation water from the Bureau." [4] Because of the way that the Bureau conducts its audits of which farms are eligible for subsidized water, GAO also concluded that the agency would "likely continue to find general compliance" with RRA, "even though some landholdings are, in reality, parts of larger farms."
The RRA aimed to reform all western federal water projects. But within a decade, abuses were so rampant in the CVP that in 1992 Congress passed the Central Valley Project Improvement Act (CVPIA). Aimed at improving the "operational flexibility" of the CVP and reducing its impact on fish and wildlife habitat, the Improvement Act limited water contract terms to 25 years (rather than the previous 40 years), allowed the creation of a water market whereby contractors could sell water that they didn't need to other water users (often at a hefty profit), and dedicated 800,000 acre-feet of water to fish and wildlife needs.
The Improvement Act also outlined a tiered pricing structure: The first 80 percent of a contractor's water allotment is paid at the contract price, the next 10 percent is paid at the average of the contract and the Bureau's "full cost" price, and the last 10 percent is paid at the "full cost" price. The revenues from this tiered pricing are supposed to go into a habitat restoration fund of up to $50 million annually. Unfortunately, because CVP water is over-allocated, most contractors don't receive more than 80 percent of their allotted amount in a given year, meaning that in practice the tiered pricing structure falls short of its promise.
As the Bureau of Reclamation has begun to renew CVP contracts, it is also clear that the agency is failing to implement the reforms called for by the CVP Improvement Act, just as it earlier failed to implement the Reclamation Reform Act.
As detailed in a recent analysis by the budget watchdog group Taxpayers for Common Sense, the Bureau is in the process of locking up millions of acre-feet of California water — and locking in massive subsidies — for the next 25 to 50 years. The new contract provisions being negotiated, and in some cases already finalized, virtually guarantee contract renewal for at least an additional 25 years, simply provided that contractors comply with current federal law. This in essence turns 25-year contracts into 50-year deals without the need for a public comment period or a reassessment of price structures and water needs. [8] Furthermore, the Bureau is not significantly changing the water amounts allocated to each contractor or the price they pay for this water, making it highly unlikely that the CVP will be paid off by 2030 as required.
Footnotes
(a) - In 2002, CVP carried about 6.5 million acre-feet of water. Of the ninety percent that went to agriculture, about half of it was provided to farmers for free (mostly because of historical water rights). For our analysis, we only considered the 2.7 million acre-feet of CVP irrigation water that was paid for in 2002 by permanent contractors.