Ethanol Report 2012: Ethanol Labels
New Label at the Gas Pump
As a condition of approving 15 percent ethanol (E15), the Environmental Protection Agency has issued a new ethanol label (below) that gas stations will be required to post on their pumps. When the policy takes effect, a label like this one may appear at your local service station if the owners decide to sell this new fuel.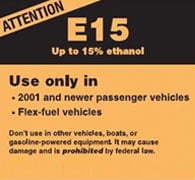 The Renewable Fuels Association, an ethanol lobbying group, is handing out these free E15 labels to gasoline stations. Its move marks a course reversal from its previous position, as late as November 2010, opposing ethanol labels on gasoline pumps. The National Corn Growers Association has opposed ALL ethanol labels on grounds they "can lead to general consumer confusion."
In early 2011, while the ethanol industry was lobbying to limit consumer disclosure, EWG asked EPA to authorize a more detailed label to give consumers even more information. The agency, under pressure from the ethanol lobby, rejected many of our recommendations. See our blog post for more on this topic.
EWG's proposed label: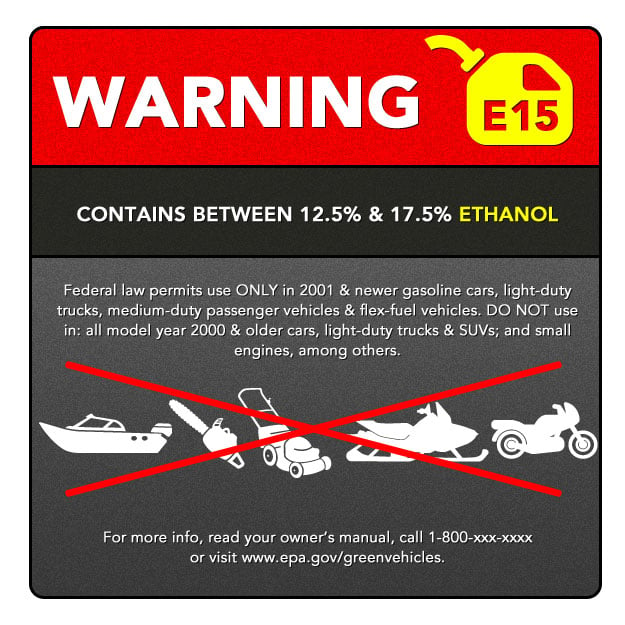 Here are other ethanol labels you may encounter. Service stations can voluntarily place them on pumps. Federal regulation does not require gasoline stations to consistently label ethanol blends other than E15.
Examples of current voluntary ethanol labels: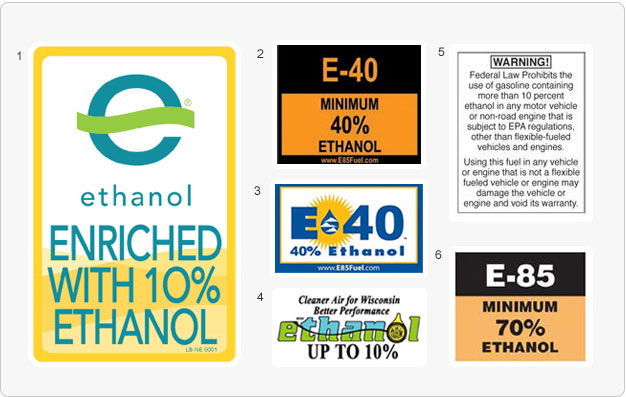 References:
1. >http://www.ne-ethanol.org/resources/labels.htm
2. http://domesticfuel.com/category/national-ethanol-vehicle-coalition/
3. http://domesticfuel.com/category/national-ethanol-vehicle-coalition/
4. http://dsps.wi.gov/er/pdf/bst/ProgramLetters_PL/ER-BST-PL-EthanolDispenserLabeling.pdf
5. http://www.nefistore.com/store.php?CID=2&SID=11
6. http://www.nefistore.com/store.php?CID=2&SID=11

Environmental Working Group /// February 17, 2012