Fooling Ourselves
Voluntary Programs Fail to Clean Up Dirty Water
Fooling Ourselves: Executive Summary
Drinking water, lakes and rivers in Iowa and across the Corn Belt are in serious trouble because of polluted farm runoff.
To tackle the problem, for decades we've taken the approach favored by agricultural interests – making federal tax dollars available for conservation practices that curb runoff, encouraging farmers to adopt those practices, then hoping enough of them volunteer to do the right thing. In Iowa alone, since 2005 the U.S. Department of Agriculture has spent $3 billion on programs to help farmers to farm in more environmentally friendly ways.
But that approach has a fatal flaw: farmers who voluntarily start conservation practices can just as easily stop.
And that's exactly what's happening in eight key Iowa watersheds, an EWG investigation found. If what we found is true statewide and throughout the Corn Belt, it's no wonder the water is still dirty.
EWG used aerial imagery from USDA's National Agricultural Imagery Program to track what happened between 2011 and 2014 with two simple but important practices – stream buffers and grassed waterways – in eight watersheds prioritized in the Iowa Nutrient Reduction Strategy. In that period, some landowners in those watersheds started following practices to control runoff, but others stopped. In the end there was no lasting gain in protection and no or miniscule progress in reducing runoff.
Between 2011 and 2014, along 1,020 miles of waterways, there was a net loss of 74 acres of grass planted to protect stream banks and filter out pollutants. Landowners added 45 acres of new stream buffer, but during the same period removed 119 acres of existing buffer within 75 feet of the shoreline.
There was a net loss of buffer acres between 2011 and 2014.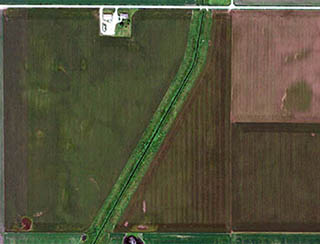 Source: USDA – NAIP 2011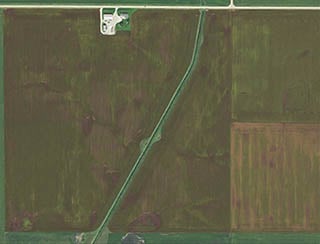 Source: USDA – NAIP 2014
The trend was the same with flow lines, the low-lying places where temporary gullies form when too much water runs off farm fields. Between 2011 and 2014, the eight watersheds gained 26 miles of newly protected flow lines, but almost all of that progress was wiped out by the disappearance of 21 miles of protected lines. Net gain: a measly five miles.
Losses wipe out most of the gain in preventing gully erosion.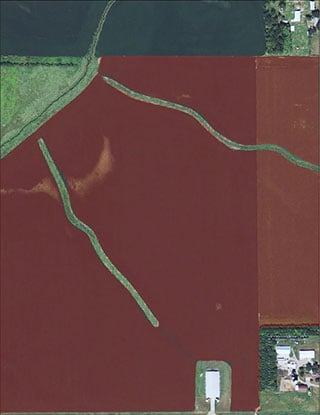 Source: USDA – NAIP 2011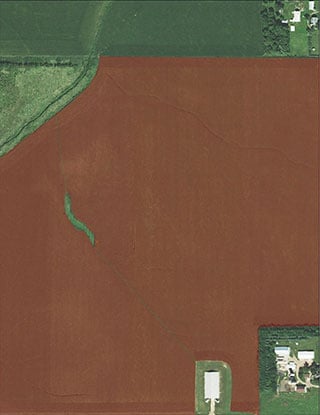 Source: USDA – NAIP 2014
Government agencies and farm organizations point to new acres enrolled in this or that conservation practice as evidence of progress. But counting gains and ignoring losses is meaningless and misleading – it's like trying to balance your checkbook by looking at deposits but not withdrawals. Monitoring what is actually happening on farmland and in the water is the only way to know for sure if progress is being made.
We are fooling ourselves by clinging to the hope that voluntary conservation measures will clean up Iowa's water. Instead we need to set standards that restrict the most damaging activities, which can often be solved by simple and conventional practices. To start, we should require landowners to meet four basic standards of care:
Keep 50 feet of vegetation between cropland and waterways to filter polluted runoff.
Heal or prevent temporary gullies, which are direct pipelines delivering polluted runoff to streams and lakes.
Manage access of livestock to streams to prevent battered stream banks that collapse, fouling waterways.
Don't spread manure on frozen or snow-covered fields.
Not all landowners would be affected by the standards – in most cases only one or two of the standards would apply to an individual farm operation. County soil and water conservation districts should be responsible for providing landowners with the technical help they need to meet the standards. Taxpayers should provide financial help to landowners who can show that meeting the standards would be a serious financial hardship.
These standards alone will not get us all the way to clean water. But throwing more money at the failed voluntary approach promoted by agricultural interests will get us nowhere. These basic standards are a solid foundation on which to build far more effective voluntary programs that work better for farmers, taxpayers and waterways. Combining common-sense standards and investing tax dollars to get additional practices in the right places is the smart path to clean water in Iowa and the Corn Belt.