Fooling Ourselves
Voluntary Programs Fail to Clean Up Dirty Water
Fooling Ourselves: Progress is painfully slow
EWG's investigation reveals that if there is any progress in stream protection, at least as measured by these two important practices, it is painfully slow. In the four years between 2011 and 2014, progress would have been barely noticeable, even if losses hadn't erased most or all of the gains. If our results in these designated priority watersheds are representative of what is happening across Iowa, it should be no surprise that Iowa's water is still dirty.
Figure 3: Progress Is Painfully Slow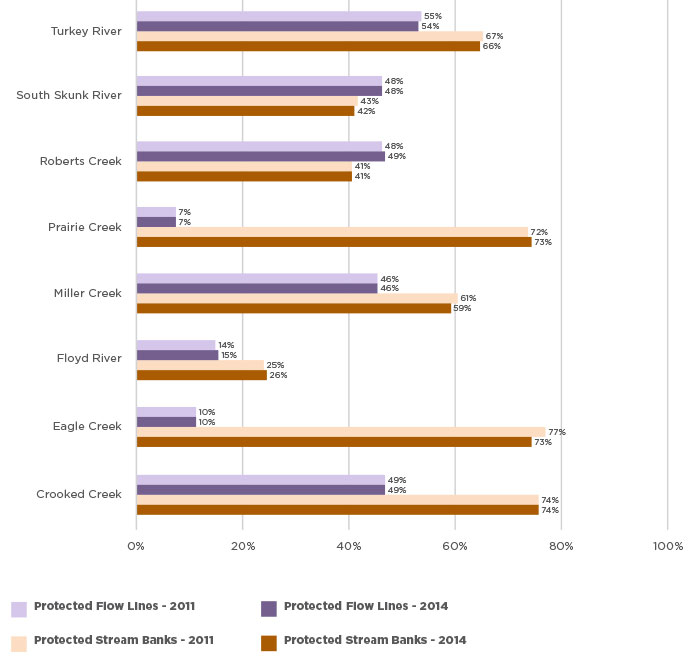 Clinging to the hope that waiting for, or paying, landowners to take measures to cut pollution will clean up Iowa's water is folly. Still, proponents of the voluntary-only approach imply that we only recently started encouraging landowners to take action and should be patient.
The truth is that taxpayers have been spending millions of dollars, year after year, to encourage landowners to get moving (Figure 4). Between 2005 and 2014, U.S. taxpayers spent $3 billion in Iowa through five USDA programs to pay landowners to farm in more environmentally friendly ways. From 2011 to 2014, U.S. taxpayers sent $1.3 billion to Iowa landowners alone. Millions more were spent through programs administered by Iowa's Department of Natural Resources and Department of Agriculture and Land Stewardship. This spending dwarfs the $18.8 million in additional funding provided since 2013 to implement Iowa's Nutrient Reduction Strategy.
Figure 4: $3 Billion in Conservation Payments to Farmers Since 2005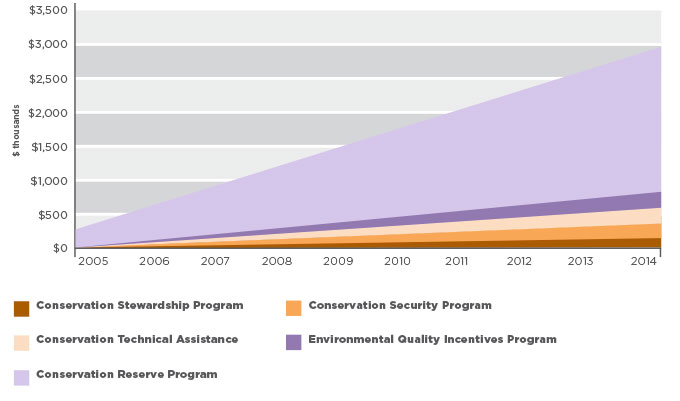 We have tried the voluntary approach to spur landowners to take the often-simple steps needed to clean up dirty water, save precious soil or improve fish and wildlife habitat. It doesn't work. Indeed, polluted runoff from farming operations has gotten worse. It's foolish to cling to a failed strategy and expect different results.