Gibbons' Fixes Fall Short
Sale of current mining claims near Las Vegas would still cost state schools $122 million; up to $100 million in annual Nevada taxes from the mining also at risk
Monday, December 12, 2005
Gibbons' Fixes Fall Short
Sale of current mining claims near Las Vegas would still cost state schools $122 million; up to $100 million in annual Nevada taxes from the mining also at risk
Proposed fixes to heavily criticized mining legislation sponsored by U.S. Rep. James A. Gibbons (R-NV) would still cost Nevada schools more than $120 million, slash up to $100 million per year in taxes currently paid by the mining industry, and leave 350 million acres of public property across the West open to development. As amended, the Gibbons bill allows the purchase of existing mining claims on lands around Las Vegas that are currently governed by the Southern Nevada Public Land Management Act (SNPLMA).
An Environmental Working Group analysis of federal land records identified 123 current mining claims within the SNPLMA boundary covering up to 9,163 acres. Patenting, or purchase of these lands, which is permitted under Gibbons' amended proposal, would cost Nevada's General Education Fund an estimated $122 million.
Real estate developers like Del Webb with thousands of acres of mining claims inside the SNPLMA boundary would still stand to make millions off the bill's passage.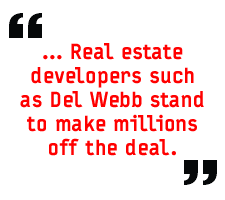 Gibbons' legislation was co-authored by Richard Pombo (R-CA), who gained notoriety recently for his proposal to privatize national parks and sell corporate sponsorships to prominent national park trails and vistas. Pombo later asserted that his parks privitization plan was a "joke." But with their current proposal to sell millions of acres of public lands under the guise of mining reform, Pombo and Gibbons have stepped well outside any definition of mainstream land values in the West, generating an avalanche of opposition that includes at least four Republican and eight Democratic senators from Western states, six Western governors, moderate GOP members of the House, sportsmen, off road vehicle users, conservationists, as well as cities and counties all across the West, including local Nevada officials.
Gibbons' changes to the bill, which do not correct the central problems with the proposal, are intended to fix what can only be seen as sloppy drafting. Prior to these amendments, Gibbons legislation would have completely derailed an important Nevada land use initiative, SNPLMA, that he had previously supported. Even with the proposed changes, current claimholders could significantly cut into the amount of land available under SNPLMA and the revenues flowing to the state of Nevada.
If past trends continue and slightly more than one-third of the remaining SNPLMA lands are auctioned for development, SNPLMA auctions will generate an estimated $4 billion. The Nevada State Education Fund would receive an estimated $200 million while $400 million would flow to water projects.
Real Estate Speculators Still Benefit at Public's Expense
Gibbons' amended bill will still reverse an 11-year Congressional moratorium on sales of federal mining claims or "patents" as they are known under mining law (Gibbons 2005 Sec. 6102 (a)). Gibbons' amended plan will also eliminate the longstanding requirement under the mining law to demonstrate that valuable mineral resources exist before claimed land can be purchased. This change clears the way for real estate speculators and others to buy what is currently public land not just inside the SNPLMA boundary but throughout the West (Gibbons 2005 Sec. 6102 (b)). According to the National Academies of Science, more than 350 million acres of public land are available for mining and would be open for development under Gibbons' amended legislation.
According to EWG's investigation of Bureau of Land Management records, developers already hold a substantial number of mining claims within the SNPLMA boundary. For example, Del Webb, a real estate development company that is a subsidiary of Bloomfield Hills, Michigan-based Pulte Homes, holds 22 claims inside the boundary. The claims, held with several partners including a company called Tyrell Builders, cover an estimated 2,200 acres.
Under Gibbons' legislation, Del Webb could purchase these acres for fair market value or $1,000 per acre, whichever is greater. As several Las Vegas localities noted in a recent letter to Gibbons, these prices are likely to be far less than what Del Webb would pay at auctions held under SNPLMA at which land typically sells for "two to three times 'fair market value'." In addition, these funds would flow to the federal government rather than to the state of Nevada (Gibbons 2005 Sec. (d)).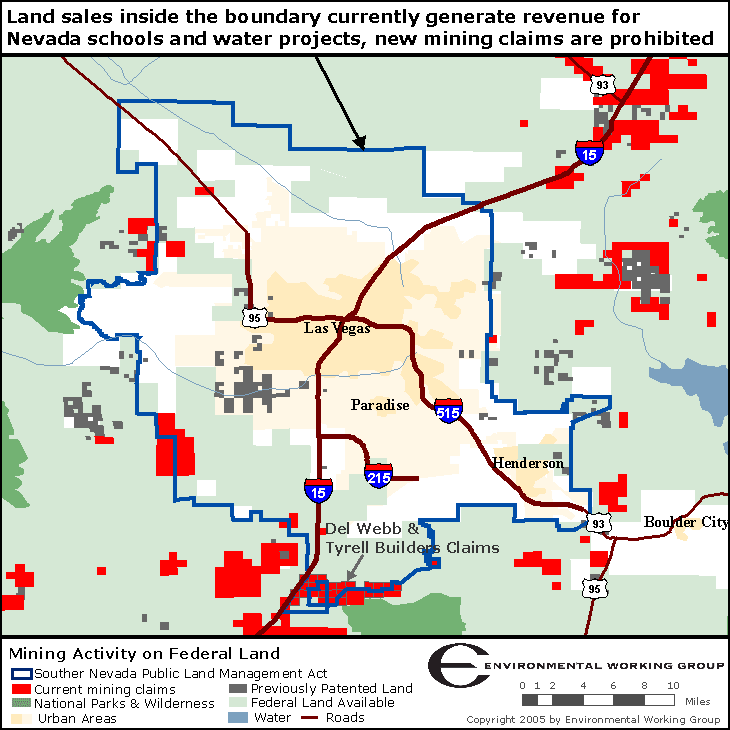 Gibbons eliminates the requirement that mining claims have valuable mineral deposits
Gibbons' bill continues to short circuit SNPLMA and federal mining law by allowing claim holders to hold their claims immune from challenge by the U.S. government simply by paying a modest fee (Gibbons 2005 Sec. 6101 (b)). This provision reverses more than 130 years of federal law which provides that claim holders have rights to public land against challenge by the U.S. government only if the claim holders can prove the existence of a valuable mineral deposit.
Under Gibbons' legislation, the federal government could not challenge the validity of the 123 claims inside the SNPLMA boundary if the claimholders paid their fee, even if no valuable minerals existed on the land. This change — in addition to the land sale provisions — could deprive Nevada localities of the opportunity to sell the land for orderly development and could deprive the state of more than $2.4 billion including the $122 million for schools. Alternatively, the claimholders could force the federal government to buy them out at great expense in order for the land to be sold under SNPLMA.
Claimholders throughout the West would have the same unprecedented rights to hold their claims free from challenge and to exclude hunters, anglers, and hikers merely by paying a modest fee. Many of these lands are located in national parks, wilderness areas and forests that provide clean water and recreational opportunities for millions of people.
Provision Could Also Cost Nevada Millions in Mining Tax Revenue
Gibbons' legislation could also deprive Nevada of millions of dollars in revenue from taxes on mining activity. The legislation provides that except for specified fees paid to the federal government, "no other fees or fair market value assessments shall be applied to prospecting, exploration, development, mining, processing, or reclamation, and uses reasonably incident thereto" (Gibbons 2005 Sec. 6101 (b)).
The Nevada Mining Association reported that in 2004, the mining industry contributed about $102.4 million to Nevada in taxes. "The majority of these government revenues accrued to local governments where mining activity occurs," the NMA reported on its website (NMA 2005). Gibbons' legislation would jeopardize at least some of this revenue.
References:
Bureau of Land Management (BLM). 2004. Final Environmental Impact Statement - Las Vegas Disposal Boundary, Dec 2004.
Bureau of Land Management (BLM). 2005. Southern Nevada Public Land Management Act, Financial Update as of November 30, 2005.
Deficit Reduction Act of 2005 (Engrossed Amendment as Agreed to by House), S. 1932, 107th Cong. § 6104 (Gibbons 2005).
Gibbons, James A. 2005a. Gibbons Blasts Proposal to Tap SNPLMA Funds, News Release, February 3, 2005. Accessed online December 9, 2005 at http://wwwc.house.gov/gibbons/display-pr.asp?id=1640.
Gibbons, James A. 2005b. Key House Leader Supports GibbonsÕ Effort to Keep SNPLMA Money in Nevada, News Release, March 17, 2005. Accessed online December 9, 2005 at http://wwwc.house.gov/gibbons/display-pr.asp?id=1658.
Letter from Bret Birdsong and other Law Professors to U.S. Senator Pete Domenici (Dec. 5, 2005) (on file with Environmental Working Group) (Law Professors Letter), p. 11. 2005.
Nevada Mining Association (NMA). 2005. Annual Economic Report Indicates Positive Outlook for Mining in Nevada - Production remains strong, jobs and exploration on the rise. Accessed online December 1, 2005 at http://www.nevadamining.org/news/press_releases/pr_1126594802.html
Southern Nevada Public Land Management Act of 1998, Pub. L. No. 105-263, 112 Stat. 2343 (SNPLMA 1998).