Iowa's Low Hanging Fruit
Stream Buffer Rule = Cleaner Water, Little Cost
Source: Esri, DigitalGlobe, GeoEye, i-cubed, USDA, USGS, AEX, Getmapping, Aerogrid, IGN, IGP, swisstopo, and the GIS User Community
Iowa's Low Hanging Fruit: Streamside Buffers
The five counties vary greatly in the acreage of streamside buffers currently in place along the waterways EWG assessed. In Allamakee County, 90 percent of the streamside buffer acreage needed to meet a 35-foot standard is already in place. Those acres represent 72 percent of the area needed to meet even a 75-foot standard. At the other end of the spectrum, in Plymouth County only 52 percent of the buffering acres needed to meet a 35-foot standard are present; they amount to just 34 percent the acreage needed to meet a 75-foot standard (Figure 2).
Figure 2: Counties varied in the amount of streamside buffer acres already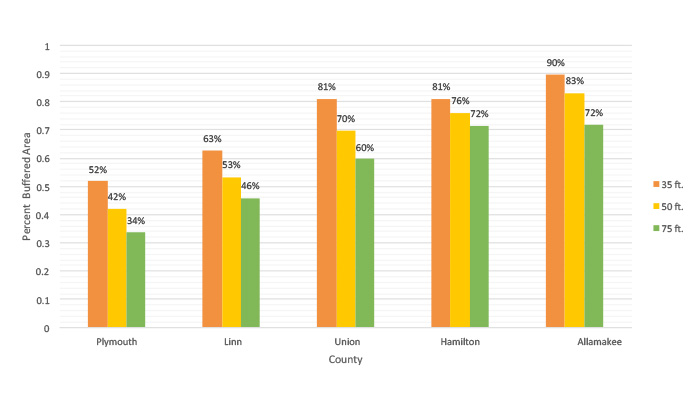 in place
Interestingly, Hamilton County has the greatest concentration of cropland yet is in nearly as good shape as Allamakee County, which has the lowest. This is good news. Large amounts of cropland don't necessarily mean poor streamside buffering.
Merely measuring the percentage of streamside acres in place for each possible buffer standard, however, obscures the huge differences among stream segments. Even in Allamakee County, for example, several stream segments do not currently meet the 35-foot standard. The situation in Plymouth County is especially grave. There existing streamside buffers don't meet the 35-foot standard at any point along the stream segments EWG assessed. Overall, along the 160 unique streams and river segments EWG analyzed, 13 percent of the adjacent agricultural land had an adequate vegetative buffer strip of 35 feet, 8 percent had 50 feet completely buffered and 6 percent had 75-foot buffers (Table 2). On the flip side, 1 percent of streams and rivers fell more than 75 percent short of the acreage needed to meet a 35-foot standard, 4 percent were that far short of meeting a 50-foot requirement and 11 percent were that far from meeting a 75-foot standard.
Table 2. Percent of river/stream segments meeting standards*
| Stream/River Segment | 35 ft. | 50 ft. | 75 ft. |
| --- | --- | --- | --- |
| Completely Buffered | 13% | 8% | 6% |
| 75-99% buffered | 46% | 36% | 26% |
| 50-74% buffered | 23% | 31% | 30% |
| 25-49% buffered | 17% | 22% | 28% |
| 1-25% buffered | 1% | 4% | 11% |
* Columns don't add up to 100 percent because of rounding.
Even between adjacent fields there are big differences in how well streams are protected. Often streamside buffers appear and disappear at property lines (Figure 3).
Figure 3: Big differences between streamside buffers on adjacent fields.
See for yourself by clicking on a county below.
Source: National Agricultural Imagery Program, 2014.