Monster Wells
Despite Drought, Hundreds of Fracking Sites Used More Than 10 Million Gallons of Water
EWG.org
Monster Wells: Drilling Through Drought
Fracking fluid used by gas and oil drilling companies is a mixture of water, chemicals and sand, which is injected into rock formations deep underground to open up hard-to-reach oil and gas deposits. Fracking fluids typically are more than 95 percent water.
Most of that is fresh water from surface or ground water sources, although brackish water, treated wastewater and recycled fracking water previously are also used in some areas. Some companies have also used alternative fluids such as liquid propane or butane, but these alternatives are rare.
EWG matched data from FracFocus with the drought status of all 261 monster well locations at the time each one was drilled, as tracked by the U.S. Drought Monitor,6 a project of the U.S. Department of Agriculture, the National Oceanic and Atmospheric Administration and the National Drought Mitigation Center at the University of Nebraska.
The data show that about two-thirds were drilled in areas beset by drought or abnormally dry conditions and used more than 2.1 billion gallons of water. About one-third were located in areas of severe, extreme or exceptional drought.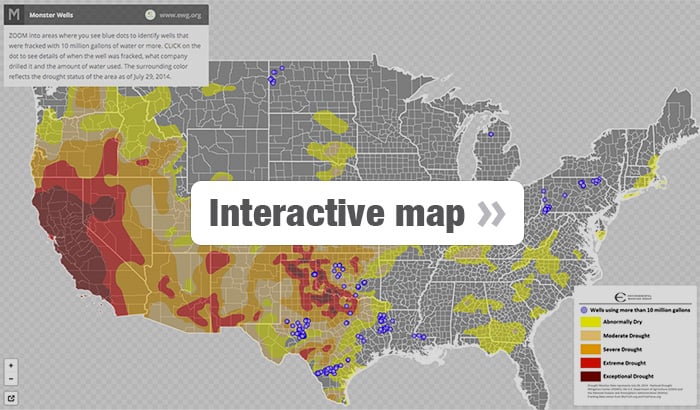 The impact on water supplies does not end once the well is fracked. If 10 million gallons of water are injected into a well, millions of gallons of contaminated water come back up. It has to go somewhere.
According to the EPA, 10- to-70 percent percent of the water used for fracking returns to the surface,7 and it can contain high levels of salts, metals, radioactive contaminants and toxic chemicals. It generally cannot be reused without treatment. Because of the high costs and technological challenges of treating this water, most of it is instead re-injected into deep underground wells for permanent disposal.8 But it often doesn't stay there.
In 2012, an investigation by journalists at the non-profit ProPublica found that disposal wells "have repeatedly leaked, sending dangerous chemicals and waste gurgling to the surface or, on occasion, seeping into shallow aquifers that store a significant portion of the nation's drinking water." ProPublica quoted a former EPA expert on underground disposal wells who said: "In 10 to 100 years we are going to find out that most of our groundwater is polluted." 9
In August of this year, Stanford University researchers reported that in Wyoming, drillers are fracking at "far shallower depths than widely believed, sometimes through underground sources of drinking water,"10 increasing the risk of contaminating water supplies with fracking fluids.