Poisoned Playgrounds
Arsenic in Pressure-treated Wood
Arsenic in Pressure-treated Wood
View and Download the report here: Poisoned Playgrounds
The wood in most playground sets, picnic tables and decks contains potentially hazardous levels of the same poison at the center of the debate over the safety of America's drinking water: arsenic. An Environmental Working Group analysis finds that even if the U.S. Environmental Protection Agency keeps its promise to lower permissible levels of arsenic in drinking water, it will not be able to protect the nation's children from arsenic unless it regulates a more pervasive source of arsenic in "pressure-treated" wood.
Outside of the wood products industry, it's a little-known fact that arsenic-laced wood is just about everywhere: in playground equipment, picnic tables, decks, fences, docks, foundations - basically, any outdoor use of lumber. Virtually all of the lumber sold for outdoor uses in the United States is pressure-treated, a misleading term that hides the fact that the wood is injected with vast amounts of toxic compounds to preserve the wood and kill termites.
The most common wood preservative used in the United States is chromated copper arsenate (CCA), an insecticide that is 22 percent pure arsenic. Numerous laboratory and field studies show definitively that potentially hazardous amounts of arsenic in CCA leach out of pressure-treated lumber, where it may be ingested or absorbed by people or animals, or may contaminate water sources or soil beneath the wood.
Our analysis of national data from 180 wood samples shows that treated wood is a much greater source of arsenic exposure for children than arsenic-contaminated drinking water. Based on an extensive review of the scientific literature, EWG estimates that a 40-pound child who plays daily on arsenic-treated wood could be exposed to more than five times the arsenic allowed under EPA's proposed drinking water standard (10 parts per billion) that has been delayed for more review by the Bush Administration (Figure 1). Less than 10 percent of all water systems in the U.S. contain arsenic at 10 ppb (USGS 2000), whereas the vast majority of American children have some contact with CCA-treated wood.
Figure 1. Treated wood is a much greater source of arsenic for children than drinking water or food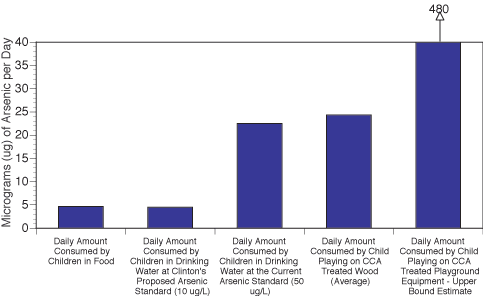 Arsenic is classified as a "known human carcinogen" by the U.S. EPA and the World Health Organization, and children are at greater risk from arsenic than adults because they are less able to metabolize the metal (NRC 1999). An average five-year-old, playing less than two weeks on a CCA-treated playset would exceed the lifetime cancer risk considered acceptable under federal pesticide law (see Endnote in Appendix for calculation details). A recent analysis by the University of Florida found that the lifetime increased risk of cancer for children regularly touching pressure-treated wood was as high as 1 in 1,000, a thousand times the risk deemed acceptable for pesticides under federal law (FDCA).
Study after study has confirmed the risks of arsenic wood preservatives, and over the past year there has been a flood of new evidence. It is clear that arsenic levels in commercially sold pressure-treated wood are high enough to pose an increased risk of cancer and other serious illness in the long term, and acute poisoning that could result in seizures or permanent nerve damage in the short term. Those risks are significantly increased for children, whose growing bodies are more susceptible to the harmful effects of arsenic.
Relying on a 1990 study by the U.S. Consumer Products Safety Commission (CPSC), the wood products industry claims that pressure-treated wood is safe. But an EWG analysis shows that the CPSC study is seriously outdated and inadequate. Among other shortcomings, the 1990 CPSC study:
was based on tests that significantly underestimated arsenic contamination and exposure;
fails to account for evidence linking arsenic to internal cancers;
fails to account for new evidence that arsenic is an endocrine disruptor;
fails to account for a recent study showing that children metabolize arsenic less efficiently than adults;
and fails to consider the wood products industry's own analysis showing unsafe levels of arsenic on wood surfaces.
In recent months concern over pressure-treated wood has spread from the playgrounds of Florida, where dozens of public playgrounds have been closed after detection of high levels of arsenic, to the nation's capital, where the EPA announced on May 9 it was fast-tracking a review of cancer risks from CCA-treated wood. The debate over EPA's drinking water standards has raised public concern about arsenic, but the risk of exposure from pressure-treated wood is just as significant, and very likely more widespread. To protect the public from this significant source of arsenic exposure, the Bush Administration should suspend the use of CCA as a pesticide, and ban its use in consumer products. Congress should repeal the special exemptions CCA enjoys under hazardous waste laws.
View and Download the report here: Poisoned Playgrounds