Stuck in the Sand
National Transportation Policy At Odds With National Security
Wednesday, August 31, 2005
National Transportation Policy At Odds With National Security
Drivers in sprawling southern cities with few transportation options are forced to send more of their gasoline dollars abroad, including to Middle East oil producers where an unknown amount of oil money flows to anti-American extremists. Amid rising gas prices and calls for energy independence, an original Environmental Working Group analysis of oil dependence by metro area underscores the urgent need to broaden transportation options for gridlocked, car-dependent communities in order to decrease reliance on Middle East oil sources and increase national security over the long haul.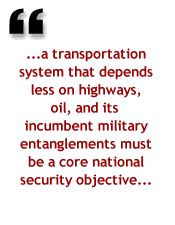 The recently passed transportation bill actually worsens the historic 80/20 imbalance in federal highway and transit funding by shaving transit's share by a quarter of one percent, or about $700 million over the life of the bill. Prior to the 1992 passage of the Intermodal Surface Transportation and Efficiency Act, or ISTEA, the ratio was even less favorable to transit, with one estimate putting the 1950 through 1980 federal spending ratio at 75 to 1 in favor of highways (Jackson 1985).
Persian Gulf nations control two-thirds of the world's oil reserves and would continue to influence prices and supply even if the U.S. obtained its oil elsewhere (Financial Times 2005, EIA Primer on Gasoline 2005, PBS 1996). But the goal of reducing dependence on Middle East oil is well worth pursuing, both on the merits of minimizing national dependence on energy from a highly volatile region, and for its motivational power for the American people. Moreover, the goal is plausible. Americans depend on foreign sources for 65 percent of their gasoline, but only 15 percent of U.S. consumption comes from the Middle East.
The public debate over "energy independence" has largely revolved around expanding domestic production and improving vehicle fuel economy. But the extremely limited domestic petroleum sources that remain cannot possibly break America's Middle East oil habit, and developing them comes at a high environmental cost. At the same time, neither Congress nor the Administration have had the political courage to force the auto industry to improve fuel economy, which is long overdue.
Reversing the historic imbalance in highway and transit funding provides another route by which America can significantly enhance national security and help wean the nation from its outsized dependence on oil. Just as building the interstate highway system was a top national security goal in the 1950s and 60's, a diversified transportation system that depends less on highways, oil, and its incumbent military entanglements must be a core national security objective today.
Drivers in Southern Cities Send The Most Money to Middle East Oil Producers
Ten Most Oil-Dependent Metro Areas
| Metro Area | Household Dollars to Middle East, Per Year | Metro Area Dollars to Middle East, Per Year |
| --- | --- | --- |
| Nashville, TN | $314 | $157,740,000 |
| Jacksonville, FL | $302 | $136,319,000 |
| Charlotte-Gastonia-Rock Hill, NC-SC | $301 | $154,258,000 |
| Dallas-Fort Worth, TX | $299 | $575,826,000 |
| Atlanta, GA | $289 | $450,700,000 |
| Denver-Boulder-Greeley, CO | $279 | $284,245,000 |
| Memphis, TN-AR-MS | $259 | $111,551,000 |
| Raleigh-Durham-Chapel Hill, NC | $257 | $164,756,000 |
| Houston-Galveston-Brazoria, TX | $246 | $410,065,000 |
| Providence-Fall River-Warwick, RI-MA | $246 | $95,052,000 |
Source: EWG, compiled from U.S. Department of Energy, 2005, and U.S. Department of Transportation 2003 and 2001.
LINK: Full list of the top 50 metro areas
Stuck in the Sand is a first-of-its-kind analysis that combines U.S. data on driving and energy to show how much each driver in the 50 largest metro areas spends on Middle East oil each year. The analysis used federal data on the number of drivers per household to calculate how much money an average household spends on gasoline each year.
The investigation found that highway dependent metro areas that have grown rapidly during the past 30 years use the most gasoline per driver, and by extension, households in these areas send the most money per driver to Middle East oil producers. Southern cities topped the list with eight of the top 10 metro areas. On average, households in the top five metro areas — Nashville, Jacksonville, Charlotte, Dallas and Atlanta — send between $314 and $289 to the Middle East each year.
In areas with a greater commitment to rail and other transit, people send far less money to the Middle East. An average household in New York, Philadelphia or Boston sends between $132 and $187 per year to the Middle East.
Residents in oil dependent metro areas are the victims of 50 years of bad transportation policies that have severely constrained transportation options and facilitated sprawling development with huge distances between work, school, and play. The analysis shows that an efficient, well-funded, diversified transportation system could cut dependence on Middle East oil and go a long way to advancing national security.
In metro areas where households send $215 a year or more to Middle East oil producers, the average driver takes transit — bus or rail — an average of 22 times per year. Where drivers spend less than $215 on Middle East oil, they average 54 transit trips per year.
In the five metro areas most dependent on Middle East oil, the average driver drives more than 15,200 miles per year, nearly twice as far as the drivers in the five least oil dependent cities, who average just 8,300 miles per year.
Only four of the 25 most oil dependent metro areas have more than two miles of commuter rail track per 100,000 drivers. Only one, San Diego, has more than five. Eleven of the 25 least oil dependent metro areas have more than two miles of rail track per 100,000 drivers, and seven have more than five.
Conclusions
When President Eisenhower called for construction of the Interstate Highway System, he did so on the basis of national security. Today our national security interests are quite different, and they demand a very different approach to transportation spending.
A diversified transportation system and a diversified energy system are essential and mutually reinforcing to national security objectives. In the aftermath of the 9/11 attacks and in the midst of the continuing violence in Iraq, Americans are looking for leadership and action to give us a greater measure of economic and diplomatic flexibility in our dealings with the Middle East.
Transportation policy must help cut dependence on any single energy source and provide more options to get people from point A to point B. This means diversifying the current system, and creating more choices for people. Given the current imbalance in transportation options and spending, reaching this goal will require a very high level of spending on rail and transit over the next several decades. In light of our current national security needs and our historic indulgence in highway construction, a substantial reorientation of priorities is not only justified, it is required.