Taking from the Taxpayers
How the Bush Administration Gave Subsidy-Rich California Farmers a $17 Million Christmas Bonus
Taking from the Taxpayers: Federal Farm Subsidies
According to EWG's Farm Subsidies Database, which lists all recipients of all Department of Agriculture (USDA) commodity price supports and other farm aid programs, from 1995 to 2003 taxpayers paid out more than $131 billion to U.S. farmers. That's enough to buy outright one-quarter of all the farms in the 302 leading agricultural counties— land, barns, farmhouses and all. Despite the popular myth that these cash payments go to help struggling family farms, EWG's analyses have shown repeatedly that the great majority of the taxpayers' money actually ends up in the pockets of large agribusiness. [34]
Far fewer farms in California receive these subsidies than in other states — in 2002, one-third of all U.S. farms got some sort of USDA payment, while only 9 percent of California farms did. This discrepancy is largely because most California farmers grow the 'wrong' things: Most subsidies are given to only a handful of staple crops, such as corn and soybeans, which are not grown extensively in California. The farmers served by the Tulare Lake Basin Water Storage District and the Kern County Water Agency, however, are another story.
Although water districts by law don't have to make public their records, EWG extracted the names and addresses of the farms in these two districts from state pesticide use data. We then matched them with the names and addresses of farms that got cash payments from the USDA. We found that most of the farmers who sued the federal government over minor restrictions on water deliveries have already been getting a huge windfall in federal crop subsidies. From 1995 to 2003, 57 percent of the 339 farms served by the Tulare Lake and Kern County water agencies got some sort of subsidy check, with the total reaching a staggering $248,196,636.
The average payment to those California farms in that period was more than 29 times higher than the national average: $1,279,364 vs. $43,134 per farm. Subsidy checks to California farms tend to be higher than the national average (although fewer California farms receive subsidies), because California farms are bigger. But even when you consider the average payment California farms received, it is striking how much more the farmers in the Tulare and Kern County water agencies are getting.
The 194 farmers in these two water districts are less than half of 1 percent of the total number of California farms receiving crop subsidies, but collectively they received 5 percent of the total USDA payments to farms in the state. The average payment going to the Tulare Lake and Kern County farmers from 1995 and 2003 was almost 12 times higher than the average payment to farms in the rest of the state: $1,279,364 vs. $110,386. The bottom line is that the Tulare Lake and Kern County farmers were already taking much more from the taxpayers than most farmers in California — but the Bush Administration decided they were entitled to another $16.7 million.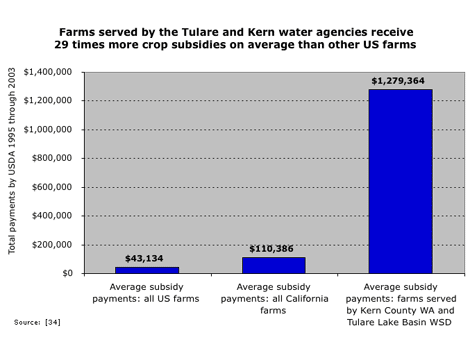 Nor were most of these payments going to help struggling family farmers stay on the land. The top subsidy recipient was J.G. Boswell Co. of Corcoran, in Kings County. Boswell is the world's largest cotton grower, a dominant position that $23.9 million in USDA payments between 1995 and 2003 must help in maintaining. Boswell is an extreme example of how far federal farm programs go to help growers of select commodities: Not only did Boswell receive $17.3 million in crop subsidies, but got another $6.6 million under a subsidy called Step 2.
The Step 2 program gives money to U.S. companies that mill cotton into thread and cloth for export, to help them buy U.S.-grown cotton. This financial incentive is necessary because American cotton is much more expensive than cotton grown elsewhere around the world. Why? Because of the crop subsidies provided to American cotton farmers, which artificially push the price of U.S. cotton above world market levels. As both a cotton grower and a miller, Boswell's farm operation can use its crop subsidies to ensure it makes a profit from growing cotton. Then its milling operation can tap the Step 2 program to lower its cost to buy more raw cotton for milling and export.
TABLE: Top 20 Subsidy Recipients
Farm/Farmer Name
City/State
Total Farm
Subsidies Received
(1995-2003)
1: J G Boswell Company
Corcoran, CA
$23,919,679
2: Dublin Farms
Corcoran, CA
$11,913,936
3: Hansen Ranches
Corcoran, CA
$8,616,787
4: C.J. Ritchie Farms
Visalia, CA
$8,225,657
5: Buttonwillow Land & Cattle Company
Buttonwillow, CA
$8,135,045
6: Starrh & Starrh Cotton Growers
Shafter, CA
$7,991,530
7: Westfarmers
Visalia, CA
$6,670,547
8: Gilkey 5
Corcoran, CA
$5,588,236
9: Chicca Twin
Buttonwillow, CA
$4,897,759
10: Wheeler Farms
Bakersfield, CA
$3,972,321
11: Torigiani Farms
Buttonwillow, CA
$3,501,218
12: The Phoenix Farming Company
Corcoran, CA
$3,441,472
13: Four B'S Farms
Corcoran, CA
$3,432,123
14: Gilkey Enterprises
Corcoran, CA
$3,121,774
15: Harry Banducci & Sons
Bakersfield, CA
$3,107,042
16: Houchin Brothers
Buttonwillow, CA
$3,074,525
17: Fred Palla Farms
Buttonwillow, CA
$2,928,370
18: Newton Farms
Stratford, CA
$2,789,606
19: Cauzza Brothers
Buttonwillow, CA
$2,735,111
20: Toretta Farms
Buttonwillow, CA
$2,722,339
Total subsidies for top 20 recipients
$120,785,076
Source: [34]
The next largest crop subsidy recipient among the farms that sued is Dublin Farms, also of Corcoran. Dublin Farms planted more than 9,000 acres of cotton and wheat in 2002 and got almost $12 million in USDA cash payments from 1995 to 2003. Corcoran, a dusty town of about 15,000, is the Beverly Hills of California farms that get crop subsidies: Other local members of the multimillion-dollar subsidy club are Hansen Ranches ($8.6 million), Gilkey 5 Farms ($5.6 million), Phoenix Farming Co. ($3.4 million), Four Bs Farms ($3.4 million) and Gilkey Enterprises ($3.1 million; exact connection to Gilkey 5 unknown). Each of these farms will share in the Tulare Lake settlement.
Farms in the water districts served by the Kern County Water Agency don't get individual USDA checks quite as large as their Tulare Lake neighbors, but they make it up in numbers. Led by C.J. Ritchie of Lost Hills and the Buttonwillow Land & Cattle Co., each with more than $8 million in crop subsidies from 1995 to 2003, no less than 58 KCWA farms got USDA payments of at least $1 million each.
Overall, 67 farms in the Tulare Lake and Kern County districts — more than one third — received checks totaling more than $1 million during this period. More than 100 farms got payments worth at least $500,000 — roughly $55,500 a year, more than the median household income in California in 2003 ($49,300), and 50 percent more than the median income in Tulare County ($36,343). [35]
Our database of farms sharing the settlement lists 145 farms which received no crop subsidies, but the number is almost certainly lower. We found many instances of names in the Farm Subsidy Database that appeared to match names of the farms we extracted from state pesticide use reports. But if we could not be certain that the farms were identical, we did not include those subsidies in our analysis.